Aksel and I, along with his brother Niels and wife Gitti,
have recently returned from a tour to Bornholm,
Denmark's island paradise in the Baltic Sea,
after having celebrated my birthday.


View Larger Map

Wednesday, August 4
Niels and Gitte arrived from Jutland, the Danish mainland, to visit on my birthday. We took the train to Bakken, Denmark's lesser-known amusement park, located north of Copenhagen in the deer park near Klampenborg. We ate alfresco on the terrace at Skovly and enjoyed going around the park.


Gitti, Niels, Dan and Aksel at Skovly restaurant at Bakken.

Thursday, August 5
The next morning we took a taxi to Copenhagen's Kastrup Airport and flew Cimber Sterling to Bornholm. After the half-hour flight we got our rental car and drove into central Rønne, the island's main city, where we lodged at BB-Hotel Rønne, a no-frills bed-and-breakfast hotel on the city's central plaza.


Dan, Niels and Gitti at Palæ Cafeet near Rønne's central plaza.

We investigated the central plaza area and lunched at Palæ Cafeet on Laksetorv before heading out for a mid-afternoon tour of the island. We drove around the northern third of the island through Klemensker, Rø, Allinge, Hasle and back to Rønne. We stopped for a late afternoon drink at Nordbornholms Røgeri, one of Bornholms many fish smokehouse/restaurants, at Allinge's picturesque harbour. The weather was stupendous and the view was lovely. We returned to Rønne where we ate dinner at Hansens Bøfhus off the central plaza followed by Irish Coffees at Cafe Gustav.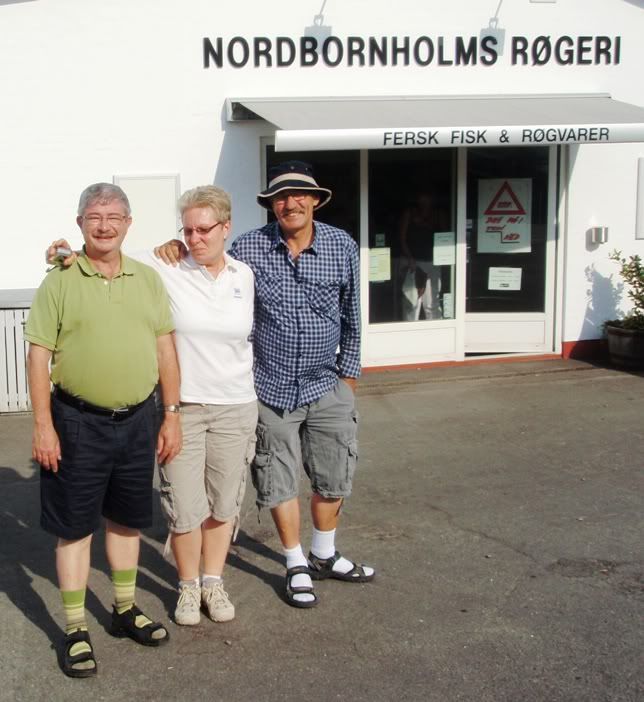 From left to right, Allinge town; Gitti, Aksel and Niels at Allinge harbour; Dan, Gitti and Niels in front of Nordbornholms Røgeri.

Friday, August 6
Our first full day of touring took us up to the northernmost point of Bornholm. We parked the car in Sandvig and hiked up to Hammersknuden, where we saw the lighthouse and the ruins at Salomon's chapel. We returned to Allinge harbour's Nordbornholms Røgeri for their lunch seafood buffet.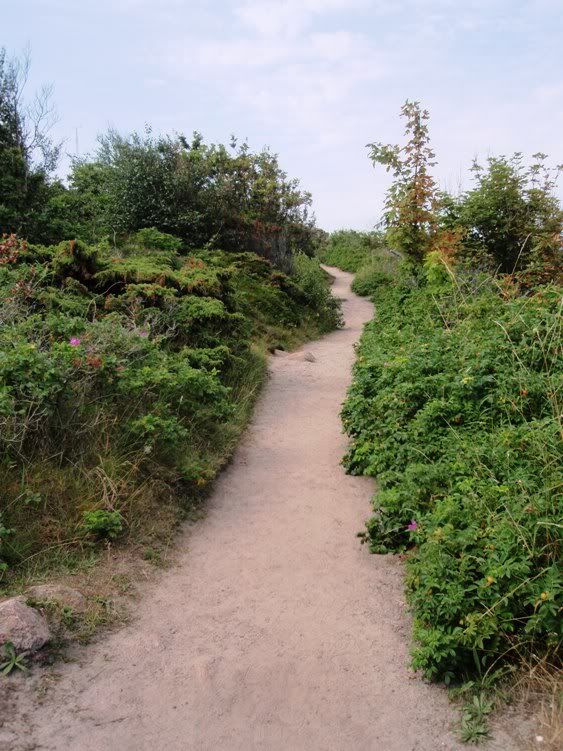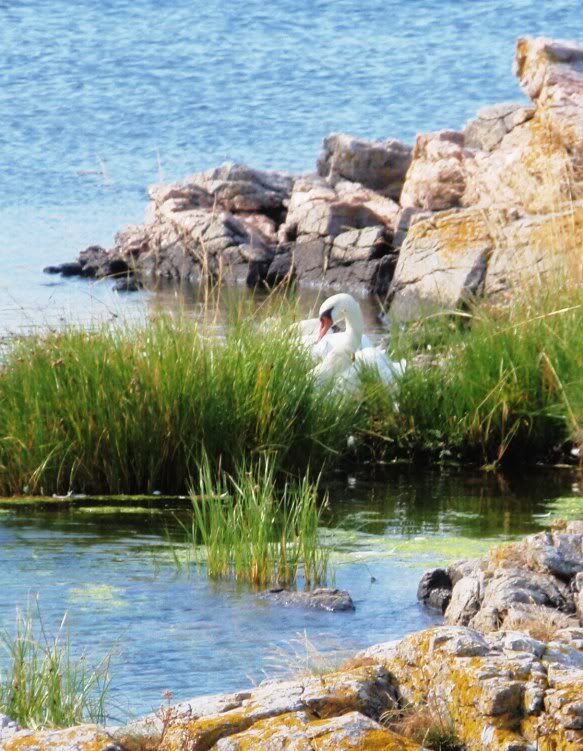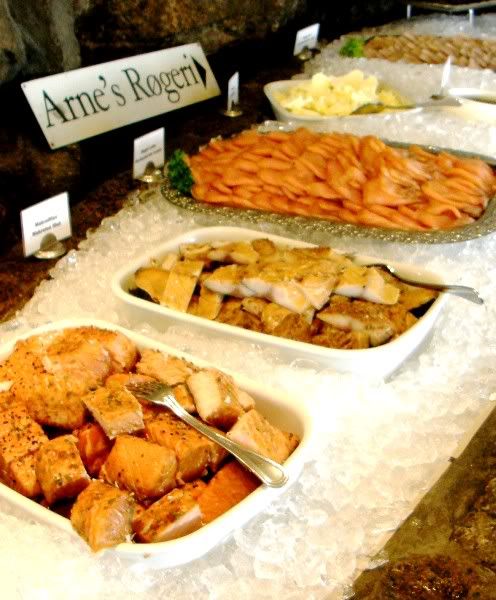 From left to right, Hammerknuden path; Swans on Hammerknuden; Seafood buffet at Nordbornholms røgeri.

Following lunch we went to the nearby Bornholm Art Museum at the Helligdomsklipperne (Sanctuary Rocks). The architecturally fascinating museum is housed in a collection of building built along the rocky cliffs. Among the artworks in its collection were several Christian Zahrtmann and Michael Ancher paintings from the late 1800s-early 1900s. Afterwards we climbed down to the seaside rocks, and then drove to nearby scenic Gudhjem for a walk around the harbour and for an afternoon drink at Café Klint.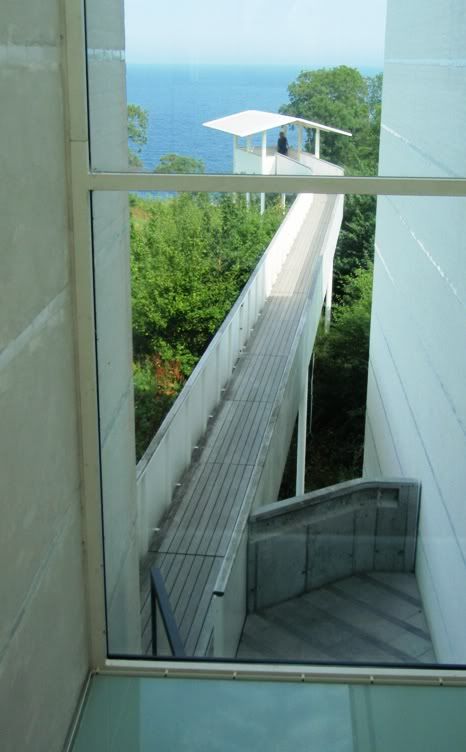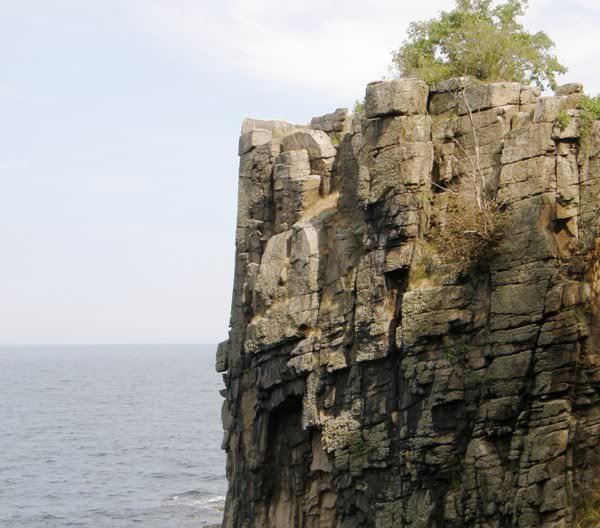 From left to right, view from art museum; stairs leading down to Sanctuary Rocks; Sanctuary Rocks (Helligdomsklipperne); street in Gudhjem.

After our afternoon nap, we drove down the southern route in search of a restaurant. We were delighted to happen upon the fantastic restaurant kadeau situated on the dunes above the fine-corned, white-sand southern beach. I don't often gush about restaurants, but this turned out to be a top-class culinary treat— Bornholm cuisine with international ambitions. I cannot even begin to describe the sensational food we were served. A week after we ate there, the highest-most rating was given to the restaurant by Børsen's AOK newspaper section-- 6 stars out of 6. If ever in the area, do not pass up the chance to eat at this restaurant. If the weather is good, get a table on the terrace at sunset. Do make reservations—we were lucky to get a table on the terrace without reservations, although not with a seaside view. We were allowed to move to a table seaside for dessert when place was available.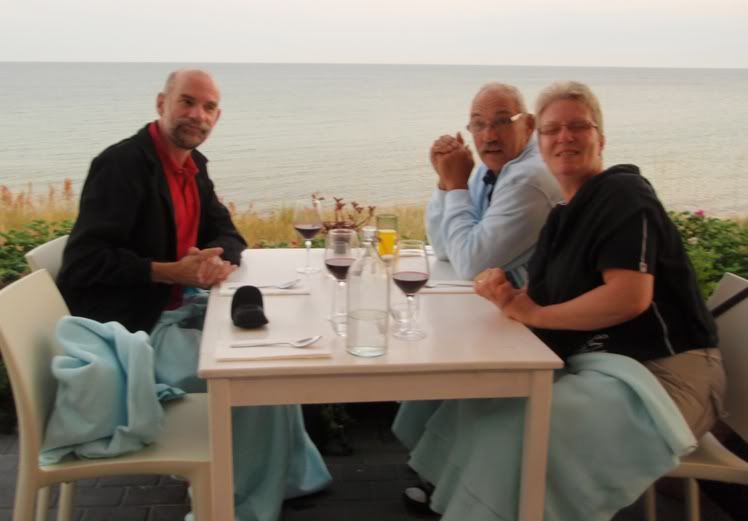 From left to right, Aksel, Niels and Gitti on the terrace at restaurant kadeau; sunset at restaurant kadeau.

We finished off the evening in Rønne with late night drinks at O'Malley's Irish Pub.

Saturday, August 7
Our second full touring day began with a hike at Hammershus, Northern Europe's largest medieval fortification. The ruins are magnificently set on the heights overlooking the sea. Already rain was threatening, but we braved the weather at Allinge harbour's Beredskabs dag (Rescue and Preparedness Day). We had lunch at Restaurant Algarve, where we were able both to keep an eye on the harbour activities and to keep dry.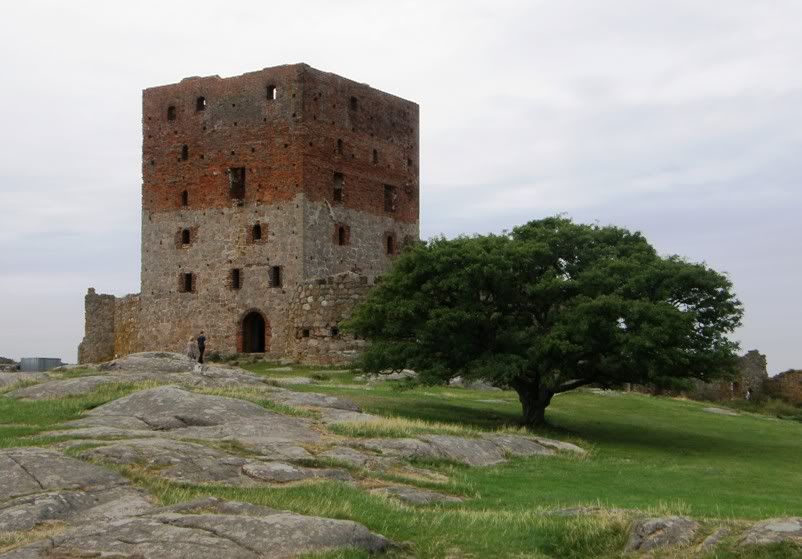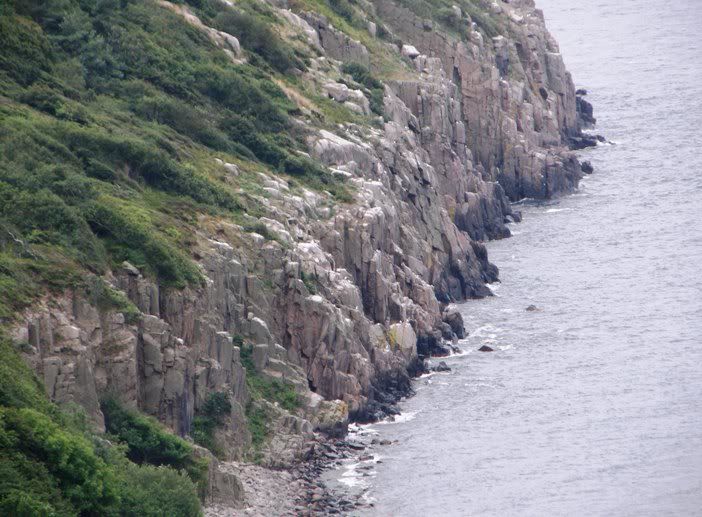 From left to right, a view of the ruins at Hammershus; Dan traipsing around at Hammershus; the cliffs at Hammershus from above.

We drove back to Rønne for a tour of Erichsens Gård and Hjorths Fabrik, both belonging to the Bornholm Museum of Rønne. Erichsens Gård (or Farm) is an upper middle-class city home from the 1800s, which is open to the public. It belonged to one of the city's leading citizens and was often visited by important figures of the times, including poet Holger Drachman and artist Christian Zahrtmann. Hjorth's Fabrik was an important ceramics factory and continues to maintain a working studio on the premises. They also exhibit both historical works from the factory, as well as contemporary works by Bornholm ceramic artists.
.
Saturday evening we tried in vain to find a decent restaurant in Åkirkeby, but after a tour of the cute little town we gave up and drove on to Nexø. In the harbour area we discovered the colourfully decorated Tre Søstre restaurant, which was quite good.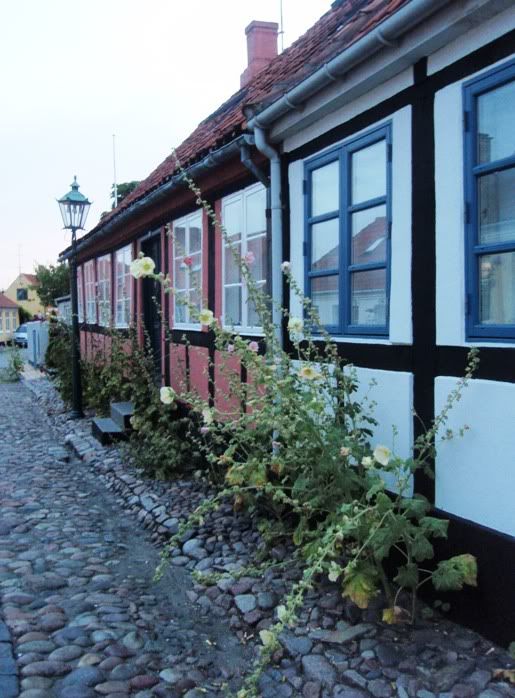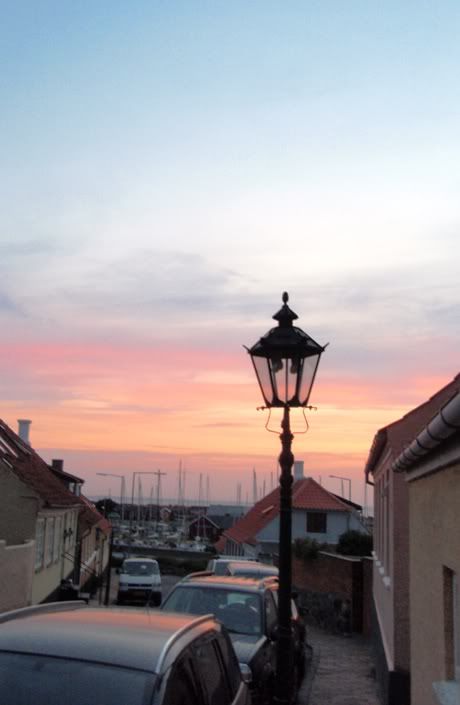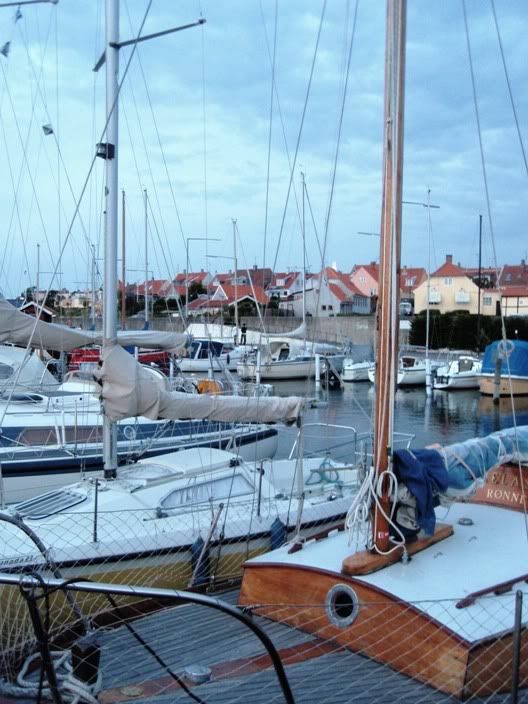 From left to right, Laksegade (Salmon Street) in Rønne, site of Erichsen's Gaard; Rønne harbour at sunset; boats at Rønne harbour.

Sunday, August 8
The rain continued on Sunday for most of the day, and therefore we looked for some indoors ac-tivities, at least to start with. We first went to Bornholm's Butterfly Park, a tropical greenhouse with free-flying butterflies. Then at lunchtime we escaped the rain in harbour town Svaneke, where we ate at Siemsens Gaard restaurant.

After lunch we took at little walk through the winding streets behind the restaurant with its selection of clothes, crafts and souvenir shops. Then we finished the afternoon with a visit to the round church in Østerlars, the largest and oldest of the many round churches found on the island.


From left to right, Svaneke harbour; Østerlars church, harbour lights at sunset in Vang.

We ate dinner at Restaurant Le Port in Vang, followed by a small walk through Vang down to the harbour at nightfall. We returned to Cafe Gustav in central Rønne for nightcaps.

Monday, August 9
Our last full touring day on Bornholm began in nearby Hasle, where we took a little morning tour through the woods and then looked in at Hasle Røgeri, a working fish smokehouse. We watched the final preparations of the fish in the smokehouse, and afterwards tasted the fresh smoked herring, mackarel and shrimp. Then we took a drive into Almindingen, the central forest of Bornholm and the third-largest forest area in Denmark, where we stopped and hiked to see Rokkesten (the Rocking Stone), Ekkodalen (Echo Valley), and Rytteknægten, the highest point on the island.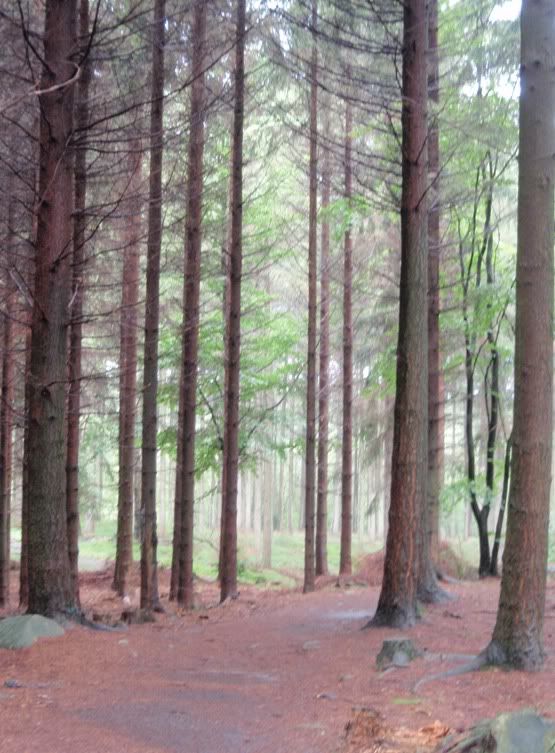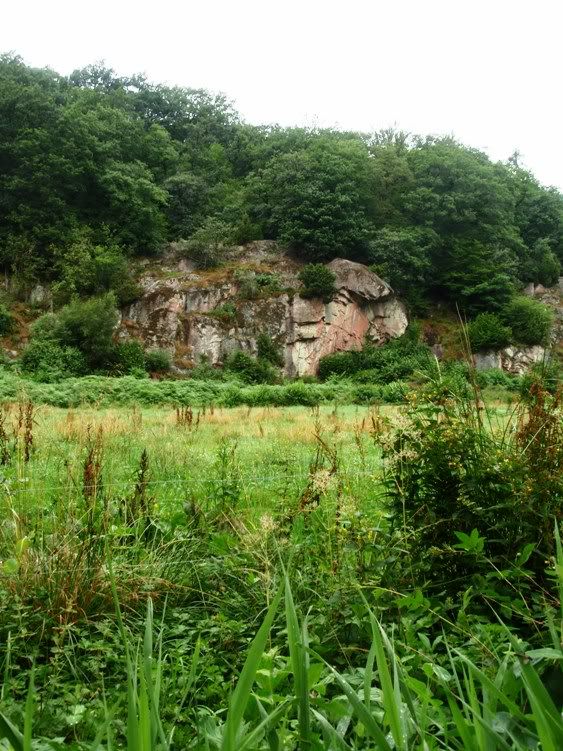 From left to right, fish smoker in Hasle; trees in Almindingen; Ekkodalen; Gitti and Dan at Dueodde beach.

After our hike we drove in Årsdale for lunch in the little smokehouse store by the harbour. Although the place was rather undistinguished and had no view to a harbour, the food was excellent. Then we drove to Bornholm's most popular beach, Dueodde, where we had a cup of coffee and a walk on the beach.

We returned to Svaneke that evening with the hope of dining at Restaurant Svanen, but we had no luck. The small restaurant was running at full capacity, as the weather did not allow for outdoors dining. We ended up eating at closeby Pakhuset, a family-style restaurant where the dinner experience was less than overwhelmingly positive. We ended the evening though on a high note with nightcaps at Sørens Værtshus, a beachfront roadhouse in Snogbæk with live music by members of Krølle Erik's Blues Band.
Krølle Erik's Blues Band

Tuesday, August 10
Tuesday morning I went for a small walk around central Rønne to see the small central plaza, the main church, and the old lighthouse before heading to the airport. Our short flight back to Copenhagen was 12:30, and uneventful— as it should be.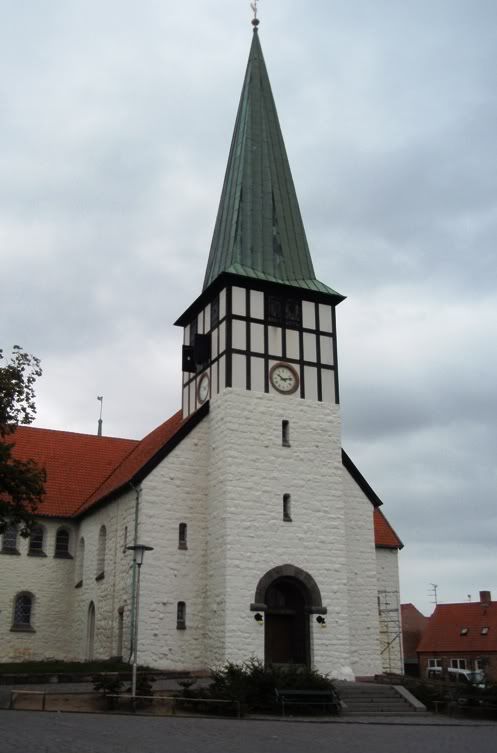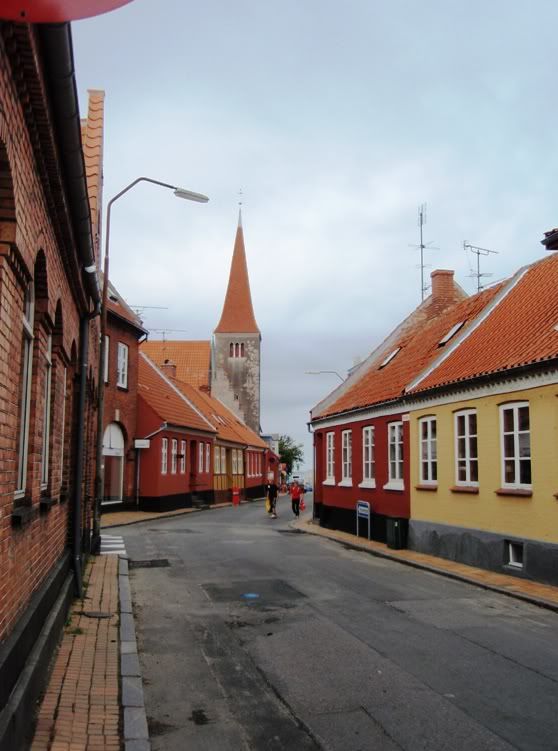 From left to right, Rønne church, street in Rønne, lighthouse in Rønne.

We travelled from Copenhagen to London via EasyJet on Saturday March 27 and survived automatic check-in at the
Premier Inn London County Hall
by mid-afternoon. We wandered over into the
Southwark
(South Bank) area around
The Old Vic
and
The Young Vic
, where we had drinks at friendly funky neighbourhood bar Windmill Tavern. Afterwards we ate a tasty dinner at traditional Italian restaurant
La Barca
, entertainment provided by the over-the-hill surly waiters. By the end of the evening the young hostess was feeding us spoonfuls of zabaglione, prepared specially for a neighbouring table.
Sunday we visited friends Ian and Stewart at their home near Bracknell for lunch. We returned to London in the late afternoon and ate across the street from our hotel at Italian restaurant
locale
. Afterwards we went for a walk along the south bank of the Thames west of Westminster Bridge, over to Lambeth Bridge, where we found a friendly local pub on Horseferry Road.
South Bank. View to the London County Building and the London Eye. Photo by David Iliff (
Wikipedia
)
Monday we went to the
National Gallery
to see an excellent exhibition of Danish golden age painter Christian Købke. We took in a bit of the Gallery's overwhelming collection, mainly 1600-1800's European paintings, including a lovely selection of Turners, Gainsboroughs, Van Goghs, Monets, Cezannes and Renoirs. From there we walked a bit through the Bloomsbury neighbourhood, taking in the area's classic homes and small parks. We had a lovely lunch at Jacque's Winebar at
The Tavistock Hotel
on Tavistock Square with its exquisite art deco lobby—a real jewel. We had afternoon cocktails at Compton's in Soho on Old Compton Street before our afternoon rest. In the early evening we wandered back into Southwark where we stumbled upon quirky, übermoderne
The Refinery
in the landmark Blue Fin building. After dinner we meandered over to the historic and popular
The George Inn
in the shadow of The Tower Bridge.
Christian Købke's "Frederiksborg Palace in the Evening Light", 1835
Tuesday we headed to the
Victoria and Albert Museum (V&A)
for a series of exhibitions, including an exceptionally interesting digital arts exhibition—
Decode
. We ate lunch at
Med Kitchen
on Gloucester Road on the way to
Kensington Palace
, which had been transformed into The Enchanted Palace. We took a quick hike through the rainy park to
The Serpentine Gallery
, where there was a small and less-than-exhilarating exhibition of
Richard Hamilton's
works. In the evening we had a lovely dinner with square dance friend Kerstin at
Caprini Ristorante
, across the street from Waterloo Station, followed by a nightcap at
Slug and Lettuce
, around the corner from our hotel.
Wednesday we visited friends Jerome and Ray in Acton where we started the visit off with morning tea followed by a small excursion to
The Musical Museum
, an outstanding collection of automatic mechanical musical instruments. We were a hit with the museum staff when we broke out in a chorus of "On A Bicycle Built For Two (Daisy! Daisy!)" accompanied by an automatic mechanical musical instrument from their collection.
Jerome and Ray perform their interpretation of Cornish Floral Dance on YouTube
.
After listening to the museum's mighty Wurlitzer (which you also can—
hear "Cry Me A River"
in the safety of your own audio sphere), we ate lunch at
The Bulls Head
, a traditional English pub, on
Strand on the Green
, within spitting distance of
Kew Gardens
, our after lunch destination. The chilly afternoon visit to the large park was followed up by afternoon tea at our hosts' home and then dinner.
Panoramic view of Strand-on-the-Green, Chiswick, London, looking downstream (East) from Kew Bridge.
Thursday was a whirlwind of activity. We got out early to see
Westminster Abbey
, which was just over the Westminster Bridge from the hotel. Then we caught an underground train to Belsize Park station where we met my cousin Mary and her husband John. We drove through Hampstead's charming commercial district to
The Spaniards Inn
by Hampstead Heath, where we ate lunch. That same evening Aksel and I attended the Broadway cast's opening night of
Hair
in London at The Gielgud.
Video clip on YouTube- Aquarius and Let the Sunshine In - Hair on Broadway. Same great cast in London.
Friday was my last full day in London. We started the day with a trek to the Mayfair neighborhood, hoping to see Irving Penn's photographic exhibit "Small Trades", at
Hamiltons Gallery
. Unfortunately it was closed due to it's being Good Friday (Spring Bank Holiday). We walked through
Liberty of London
and had lunch at The Gunmakers, a neighborhood pub on Aybrook in the Marylebone neighborhood. We took in a bit of the gargantuan British Museum— some of the Egyptian, Assyrian and Greek halls, but the place was so crowded it was impossible to spend much time there. Thanks goodness for free access to the English museums, so one can just come in and out as one pleases. Free the museums! That evening we ate at
Live Bait
, a delightful fish and seafood restaurant across from the Young Vic in Southwark.
Saturday morning after breakfast I took a cab to Liverpool Street station where I caught the 10:58 to Great Chesterford, a village north of London on the train line to Cambridge. I checked in at the casual and charming
The Crown House Hotel
, a short walking distance from the Great Chesterford railway station and in time to unpack, have lunch in their winter garden, and find my way to the square dance a short five minutes walk from the hotel. Ian McConnell called C3A and C3B at Galaxy Squares' annual Easter Weekend event (10 hours C3A, 7-1/2 hours C3B). There were lots of square dance friends from all over England, Sweden and Germany in attendance. The club hosted a lovely lunch on both Sunday and Monday, and we ate dinner together on Sunday evening at Italian restaurant Ask Restaurant in
Saffron Walden
, a quaint and popular market town nearby.
On Monday after the dance I was graciously taken to Stansted airport by club members Bob and Sue where I hooked up with Aksel for the flight back to Copenhagen, and the return to "the daily life".
Aksel and I just returned from a lovely tour to London on Monday evening, April 5. Well, the weather was typically English for this time of year— rainy, a bit blustery on occassion, cool with the sun peeking out once in a while. Out in the countryside the early spring flowers were blooming. We could have hoped for better weather, but this is what we got. And it wasn't so bad after all.
As a result of dinner last week I've been asked for the following recipes.

Roasted Pumpkin Soup
I used a Hokkaido pumpkin (or miniature or Japanese pumpkin as it is sometimes known)
Ingredients
1 Hokkaido pumpkin
Butter, margarine or oil to grease baking dishes
Sugar, to taste
Cinnamon, optional
Nutmeg, optional
2 cups chicken broth
Cream or milk
Salt and pepper to taste
Sherry, optional
Butter, optional

1. Preheat the oven to 350 degrees Fahrenheit (170 degreen Centigrade)
2. Prepare the pumpkin. Cut off the top (stem) and the bottom. Peel the pumpkin. Cut the pumpkin in half. Scoop out the seeds and the fleshy meat at the center cleanly. These can be discarded unless you want to save the seeds for other purposes. I do not.
3. Cut the pumpkin into smaller portions for roasting approx. 1" x 1" by 4" (the size of a half carrot).
4. Grease two baking dishes. I use liquid margarine, but you can use butter or oil after preference.
5. Spread the pumpkin pieces into the two baking dishes. They should be more or less on one layer. Do not pile them high. Give them some room.
6. Sprinkle with sugar. Don't be stingy, but don't overdo it either. If you prefer you can substitute honey or maple syrup, but sugar helps the pumpkin pieces carmelize. You can also sprinkle a little cinnamon and nutmeg if you wish.
7. Put in the pre-heated oven for ca. 45 minutes to roast. Test for doneness with a toothpick or knife tip. The pieces should look a bit browned on the outside.
8. When they are done empty the pumpkin pieces and the liquid at the bottom of the baking pans into a large kitchen bowl.
9. Blend the pumpkin and liquid with a hand-held blender. Add chicken broth until the mixture is thick and soupy. It should be thicker than the final result, as you will still add some other liquids that will thin down the soup.
10. Pour the mixture into a stove-top cooking pot. Heat on medium until simmering.
11. Add cream or milk until the consistency is just about right and the color is nice.
12. Adjust flavor with a bit of salt, pepper, a bit of butter and if desired some sherry. Do not let boil after sherry has been added.
13. Serve with crusty bread. Decorate soup with, for example, sour cream or creme fraiche, roasted pine nuts or candied bacon.

Candied Pepper Bacon
I used cubed or diced slab bacon not presliced bacon. The recipe can be generally adjusted for use of presliced bacon. I used the carmelized bacon as a topping for the Roast Pumpkin Soup (recipe above). It can also be used as a topping on pizza or salads. I have many more ideas for how to use this tasty ingredient. It seems to be an "in" ingredient at the moment.

Ingredients
Cubed or diced bacon (approx. 1/4" cubes), one never make enough
Sugar, to taste
Black pepper, to taste
1. Fry bacon in a hot skillet until it is half-cooked.
2. Remove from heat and let drain on paper towels.
3. Discard bacon grease (or save separately) and clean skillet thoroughly. Spread a sheet of baking paper or wax paper on the bottom of a baking or cookie tray or baking pan. You will put the carmelized bacon on this paper later.
4. When bacon has drained, sprinkle bacon thoroughly with sugar.
5. Pour approx 1/2 cup sugar into the skillet. Spread thinly. Heat on medium until sugar begins to melt and turn a bit brownish.
6. Add bacon and mix with the melting sugar. Sprinkle with some pepper, to taste. When the sugar is well melted and begins to bubble, lower temperature to low heat. Mix bacon and sugar constantly and continuously. I use a wooden spatula so I can turn the mixture over constantly. Do this for ten minutes. The mixture will turn a lovely brown caramel color and thoroughly coat the bacon. Be careful not to heat too high or the sugar will burn.
6. Pour the mixture out onto the baking or wax paper and try to spread it as thinly as possible. It will be somewhat difficult as the mixture will be very sticky.
7. Put the baking paper with carmelized bacon into refrigerator or other cold area for approx. 1/2 hour to make handling easier.
8. When the carmelized bacon is cooled off break apart into small pieces. I found this easy to do with a pair of kitchen shears.
9. When broken into small pieces the carmelized bacon pieces can be returned to the refrigerator for easier handling.
The past few weeks have been a bit zanier than usual. On October 10 I got the news that my mother was to have surgery on Monday, October 12-- I flew to Chicago the next day to see her through her ordeal, and to see that she was well-taken care of so I could get return to my otherwise more-or-less normal day-to-day.
The surgery went well, actually better than expected, but recovery was slow and times frustrating. She is in rehabilitation now for a couple of weeks until she is well enough to fend for herself (probably with the help of some short-term assistance).
Besides spending time with Mom I had time to do a whole lot of other things in Chicago, my old stomping grounds-- family, friends, film, food and other sundry fun.
Family:
I got to spend a bit of time with my Aunt Ruth, mostly on the telephone but also a nice brunch with her and friends Gloria and Woody. I also had a nice dinner with Cousin Roger and cousin-in-law Mike at
L. Woods
, a traditional stop on my Chicago dining tour.
Friends:
High-school friend Sheila and I got together a couple of times, including a nice dinner with her 90-year-old Mom who I hadn't seen in several years. Afterwards Sheila and I went dancing at
May I Have This Dance
on Elston, where we received "crash" lessons in The Hustle and West Coast Swing, and then enjoyed their Sunday open-floor. Since I danced West Coast Swing 1994-1998 in San Francisco, and since Sheila is a quick and eager learner as well as a good follow, we were able to quickly move beyond the few basics and we cut loose. Reminded me of good old dance evenings at Metronome in San Francisco.
Sheila and I also had a fabulous dinner at Andersonville restaurant
Anteprima
. Additionally I had two nice dinners with Nurith and Davis, who have been so helpful (and who are nearly family at this point), a nice dinner at friends Karen and Joel's house in Skokie, shmoozed and lunched with former business associated Judi on the Magnificant Mile (Michigan Avenue) at
Grand Lux Cafe
, lunched and shopped with friend David at
Big Bowl!
(the oriental restaurant, not the bowling alley), and gossiped and cocktailed with high-school cohort Karin at
Reza's
in the River North area.
I had a great time renewing acquaintances and making new friends at square dance evenings with Chi-Town Squares, where I learned to square dance 1987-1989. I joined the group for six evenings during my stay. Sandie Bryant was caller-- one couldn't hope for a better instructor/caller.
Film:
I managed to see the following films while in Chicago:
the Coen Brothers' A Serious Man: Very good picture about growing up Jewish in 1960s suburbia.

Where The Wild Things Are: Well made. I think it helps to be a Sendak fan to really get wild and crazy over this. I wasn't.

Surrogates: Fun and exciting, spooky too. Thought provoking. Good effects.

Julie and Julia: Meryl Streep was excellent as Julia, captivating. Enjoyed especially the historical sequences and the relationship between Julia and Paul (Stanley Tucci). The contemporary sequences were less enthralling.

Law Abiding Citizen: Exciting and action-packed psychological thriller. At times really bloody, but not enough to make me turn away (and I am squeamish).

Capitalism: A Love Story: Michael Moore turns this interesting, but potentially dry sbuject, into an entertaining film.

An Education: Very enjoyable drama with strong Danish connections- -- director Lone Scherfig and actor Peter Sarsgaard. Lead female Carey Mulligan, who got an alternative education, was beautiful and reminiscent of 1960s Audrey Hepburn. Good music, bought soundtrack. Liked Beth Rowley's torchy "Sunday Kind of Love" and other 60s music.

Amelia: Big beautiful cinematography, and some good music. The story is supposed to be inspiring, but I found it schmaltzy. Nice sets and costumes-- a visual delight.
Coco Before Chanel: Charming French-language film with subtitles. Liked Chanel's characterisation.

Food: In addition to the aforementioned restaurants and their nummy food items, other highlights were:

Bistro 110: Just off the Magnificant Mile at the old Water Tower, it was as good as I remember it from 20-some years ago. Roasted elephant garlic to smear on fresh-baked crusty bread, extra crispy pizzette topped with soft onions, kalmata olives and anchovies served with spring greens, trout almondine on a bed of swiss chard and celery with oven-roasted potatoes, and creme brulée with seasonal fruits. Wines were luscious, service was excellent and friendly, surroundings were beautiful.

Terzo Piano at the Art Institute of Chicago: An expansive, open modern and classic space overlooking Millenium Park and the skyline of Chicago, very Scandinavian, very white. A trio of small burgers (sliders) featuring 1) Piemontese beef with Wisconsin Colby cheese, 2) lamb with goat cheese, and 3) shrimp with calabrian pepper spread, pomme frites and home-made ketchup with a glass of Chardonnay, followed by panna cotta and cappuccino. Small faux pas-- no dessert wines. Shame shame skam skam.
Other sundry fun:

I have recently read and enjoyed Andy McDermott's action-packed fourth novel The Covenant of Genesis (my review) so I ordered his first three books in the Dr. Nina Wilde and Eddie Chase series from bibliotek.dk, the Danish public library system. McDermott referred to their previous adventures throughout the novel, and my curiosity was piqued. I was not disappointed by The Tomb of Hercules, his second novel.




Recurring main characters archaeologist Nina Wilde, her boyfriend, former British SAS soldier, Eddie Chase, and Eddie's former wife, the murderous Lady Sophie Blackwell travel around the globe leaving a trail of humour, destruction and chaos in their wake—from the high-seas to the tunnels of the New York train system, from a nuclear bomb facility in the Swiss Alps to a perilous traffic chase in downtown Shanghai. Clues to the location of The Tomb of Hercules are found written in invisible ink on the back side of a 2,000 year-old manuscript of Plato's dialogues. The novel concludes with an attempted nuclear attack on New York City. Phew! That's plenty of action.

The cliff-hangers are many, including both an actual cliff and a waterfall in Botswana. One wonders how McDermott can squeeze in quite so many of them into one novel. But that's no complaint— I love it. It's fast and furious, like Indiana Jones on steroids. A scene I particularly enjoyed was one where Eddie and ex-wife Sophia's escape down the side of a skyscraper in Shanghai on a sheet of metal. It was thrilling.

Nina and Eddie are very likeable with a repartee reminiscent of Dashiell Hammet's Nick and Nora Charles. They struggle with their relationship and with their new jobs. The threat of break-up hangs over them at times, especially when Nina becomes jealous of Sophie, Eddie's cunning and vicious ex-wife. Eddie has a heart of gold. He is sweet and stubborn, and doesn't know how to express his feelings except in anger and rage—but he is loyal to his friends and those he loves. And Sophie will stop at nothing to get what she wants. No one stands in her way and survives.

Some warnings for the faint at heart. At times the action becomes a bit gory, but it is always handled with devilish humour. For example the corridors leading up to the Tomb of Heracles are fraught with imaginatives traps and pitfalls, some of which were put to work; and Sophie makes brutal use of her stilettos in escaping pursuers from the Shanghai Opera Building. Also Eddie's language can be quite salty, and there are frequent references to sex. So if you're offended by any of these, perhaps you might want to look elsewhere.

McDermott makes frequent, charming and amusingly pointed comparisons between his characters and plotlines to those in other works such as by Dan Brown, Ian Fleming's James Bond novels and J.K. Rowling's Harry Potter books.

McDermott's light-hearted, exciting and easy-to-read novels entertain with techno-action, archeological adventures, fantastic locations and evil-doers you wish you could fight yourself. The library is already holding McDermott's first book in the series, The Hunt for Atlantis for me. I look forward to seeing how their adventures begin.
I have just returned from a fun-filled square dance weekend in Stockholm, where I attended Motiv8's annual Oktober Festivalen. This year Vic Cedar was caller. Multi-levels sessions began on Thursday evening with C4 dancing, and on Friday evening with A2. But I didn't arrive in Stockholm until Friday evening.

I arrived by train 9:30 PM at Stockholm Central Train Station. After taking care of business at the station (buying my 3-day transportation card, using an ATM and checking the book store for my current must-have's) I went across the street from the station's main entrance to the Best Western Terminus Hotel, where I have previously stayed a few times, and checked in.

My dance weekend began in all seriousness Saturday morning 10:00 AM with 3 hours each of C3A, C1 and C2. On Sunday we danced 11:00 AM-6:00 PM with 3 hours each of C2 and C3B, and on Monday we concluded with a full day of C3B 09:30 AM – 4:00 PM. I partnered up with local square dance friend Anne-Lise for most of the sessions, and danced C3A with English expatriate-now-living-in-Sweden Rosie.

There was a good turnout of dancers, and it's always great to see travellers who join us from England, Germany and the United States. There were a number of Danes in attendance besides myself—locals Jan, Åse the half-Dane and Jarl, and the Jutland group, Mona, Michael, Britta and Arne. If I had forgotten any Danes, I hope that I will either be excused or corrected (and not chastised).

It was especially great to see friend Steffan from Germany who does so much to organize dance opportunities for advanced and challenge dancers in northern Europe. He is active with Percolator's Square Dance club and their arrangements in Plön throughout the year and at the bi-annual iPAC convention in Barmstedt. Steffan gave me a nice video CD as a souvenir from this summer's iPAC convention in Barmstedt. I am sure that I will enjoy it. Note that there is no iPAC this coming summer, you will have to wait until 2011—plan for it now!

On Saturday evening after the dance was over I took a small break from square dancing. Not meaning to be anti-social, I declined however the dinner tour to the Greek restaurant in nearby Fruängen Center where a large group met. I was dead on my feet, my body ached and my brain was beyond over-stimulated, so I went back to my hotel and had a nice meal at Kaspar, the hotel bar and restaurant. I enjoyed a traditional Swedish open-face sandwich (räkor smörgås) with a large mound of shrimp and sufficient white wine to help them find their way to the bottom of my ocean. Dessert was fresh fruit and berries with mascarpone cream.



From l to r, Kasper Bar and Restaurant at the Best Western Terminus in Stockholm, räkor smörgås (open-face shrimp sandwich)

Anne-Lise, Jan and I took the same train back to Copenhagen. We were delayed in Malmö by about 25 minutes, so we arrived at the main station rather late. Luckily there was train leaving for our home stations very quickly afterwards.

Call to remember from this weekend: From a beginning double pass-thru formation, Half Crazy Reflected Double Pass Thru.
Gospel Truths (1992) is popular novelist J.G. Sandom's third novel, and is the first Sandom novel I have read. It is a gripping religious conspiracy thriller ala Dan Brown's DaVinci Code, only published 11 years earlier and not nearly so gripping.




In the novel London Police reopens the suspicious suicide case of a notorious banker, who had previously been caught in a financial scandal involving the Vatican Bank. Hard-on-his-luck London detective Nigel Lyman is given the assignment to investigate. He stands the chance to redeem himself professionally. Or is he being set up to fail miserably in order to conceal a secret that must remain under wraps. The trail leads to France where clues in the architecture of Notre Dame cathedrals in Amiens and Chartres lead to treasure, murderous secrets and a long buried gospel that threatens the religious basis for the Catholic Church.

Sound familiar? Religious conspiracies, long lost gospel texts, symbology, sensational architecture, international escapades and threats to world religion are common fare for thrillers nowadays. But as a reader they strike a chord for me, and I can't seem to get enough of them. However, I try to stave off overload by moderating how many of these types of thrillers I read one after the other.

The atmosphere in Gospel Truths is dark and moody. Sandom is a creative wordsmith and his characters are compelling and likeable. Although it lacks the cinematic fast-edit cliff-hangers that Dan Brown creates so masterfully, it delivers a well crafted story with surprising twists. During the otherwise thrilling conclusion the dialogue becomes a bit awkward, I feel, but nevertheless I enjoyed the book.

Sandom has written a number of books since this one. But now after seventeen years he has published a sequel to this novel called The God Machine. One could surmise he is taking advantage of the wave of popularity for religious thrillers caused by DaVinci Code, in the same manner as this re-release of the novel was well-timed. Although I had some misgivings about the book's conclusive pages l am looking forward to reading the sequel.

In the meantime I'll be reading the first three of Andy McDermott's humorous Nina Wilde-Eddie Chase thrillers. I recently posted my thoughts about his fourth novel The Covenant of Genesis (my review). Have you read any of Sandom's novels? What did you think of them?

I had a super time this weekend at the annual The Diamond Challenge dance in Aalborg, Denmark. Callers were Ross Howell, Dave Wilson and Bjørn Andersson. Dance levels were C1-C3B. There was a lot of enthusiasm in the three dance rooms. It was great to see so many familiar faces.

My dance partner Lis and I took the train on Friday early afternoon to Aalborg center. We arrived ca. 6:00 PM. We stayed at bed-and-breakfast Hotel Krogen, ca. 1 kilometer from center with good public transportation both to downtown and to the dance. The hotel is situated in a large renovated palae in a beautiful quiet residential neighborhood near the art museum.

After checking in to our rooms we returned downtown and ate at Restaurant Layalina near the harbour, which rather misleadingly describes itself as an Oriental restaurant. Hardly! The restaurant was informally elegant, and good use of white paint, mirrors and lattice gave it an airy pleasant atmosphere. I ate shrimp in philo dough packets on saffron sauce for an appetizer, roast duck for a main dish and tiramisu for dessert accompanied by house white wine. The prices were reasonable and the food was tasty.

The square dance was Saturday 1:00-9:00 PM and Sunday 10:00 AM-4:00 PM. Although I had heard that attendance was a bit down this year, there were attendees from all over Denmark, Sweden, Germany, England and USA. Besides the dancing itself, which was a lot of fun, a highlight of the weekend was spending time with a pair of Americans I had danced with six months ago at IAGSDC convention in Washington D.C.

This annual dance in Aalborg has for years been a sign to me that the square dance season is now running at full speed again. It may not be the first dance at the conclusion of summer, but now autumn is upon us, and there's no denying winter is looming up ahead. With good friends on the dance floor and good callers at the microphone I look forward to a winter that will be burning with square dance fun.

Next on the square dance itinerary is Stockholm's Oktober Festivalen with caller Vic Cedar.
I was looking for a little bit of light reading and excitement on my bookshelf, and found The Covenant of Genesis by Andy McDermott (author's home page). I hadn't read a good action book for some time. This book looked like it would fit the bill. It seemed to promise techno-action, plenty of excitement, archeological adventures and a religious conspiracy set on the world stage.




I was not disappointed by the young English writer's fourth novel. Andy McDermott has cranked out.four action-packed novels in the past two years—and there are two more set to come during the next year. That's quite a writing schedule!

Recurring characters archaeologist Nina Wilde and her boyfriend, former British SAS soldier, Eddie Chase uncover the secret that threatens the three Abrahamic religions—Christianity, Judaism and Islam— the discovery of the actual Garden of Eden and its residents. Their adventure takes them to Indonesia, Australia, Antarctica and Somalia, and from the deep-seas to deep-ice to desert to underground caverns. Along the way the way they contend with Eddie's former wife, the presumedly-dead terrorist, the murderous Sophie Blackwell and her current amour, the ambitious Professor Gabriel Ribbsley, both of whom are in cahoots with the Covenant of Genesis, a supersecret alliance between the Catholic Church, Judaism and Islam. The cliff-hanger story features high-pitched action with rich cinematic possibilities (I am sure this book could be spun off into a blockbuster movie or a video game). Nina and Eddie's snappy wisecracks during the most difficult of situations remind me of Nick and Nora Charles' retorts in Dashiell Hammet's The Thin Man (my review)— only more modern and less intoxicated.
I suspect that McDermott's other books follow a similar formula. The titles, as well as Nina's profession, infer archaeological themes, which include sites connected to mythical Atlantis, Hercules, Excalibur, and in planned releases to Osiris and Shiva. I am intrigued, mostly because I am interested in legends and mythology. But also because of the references McDermott made throughout this book to these earlier novels. It was a good marketing ploy to pique the reader's interest in the background stories. I enjoy reading serial adventure novels, and have enjoyed the following especially— Daniel Silva's Gabriel Allon series, Preston and Childs' Pendergrast novels, and James Rollins' Sigma Force novels.
I was certainly entertained by this easy-to-read novel, and would recommend this to those interested in this type of story. I would rush out right now and purchase his other books, if I wasn't trying to cut back on purchases of "paper" book, in the hope that an e-Reader will come out relatively soon that meets my needs. Therefore I did the only sensible thing! I ordered them from bibliotek.dk, the Danish public library system. I look forward to reading them.
Have you already made the jump to an e-Reader? Which one? What do you think of it?

On Facebook I'm known as square.dansk. Check it out.
Its the same friendly guy, saying the same things. Only with less words.
My profile page is at
facebook.com/square.dansk
.
Do I know you?
Be my Facebook friend